News Detail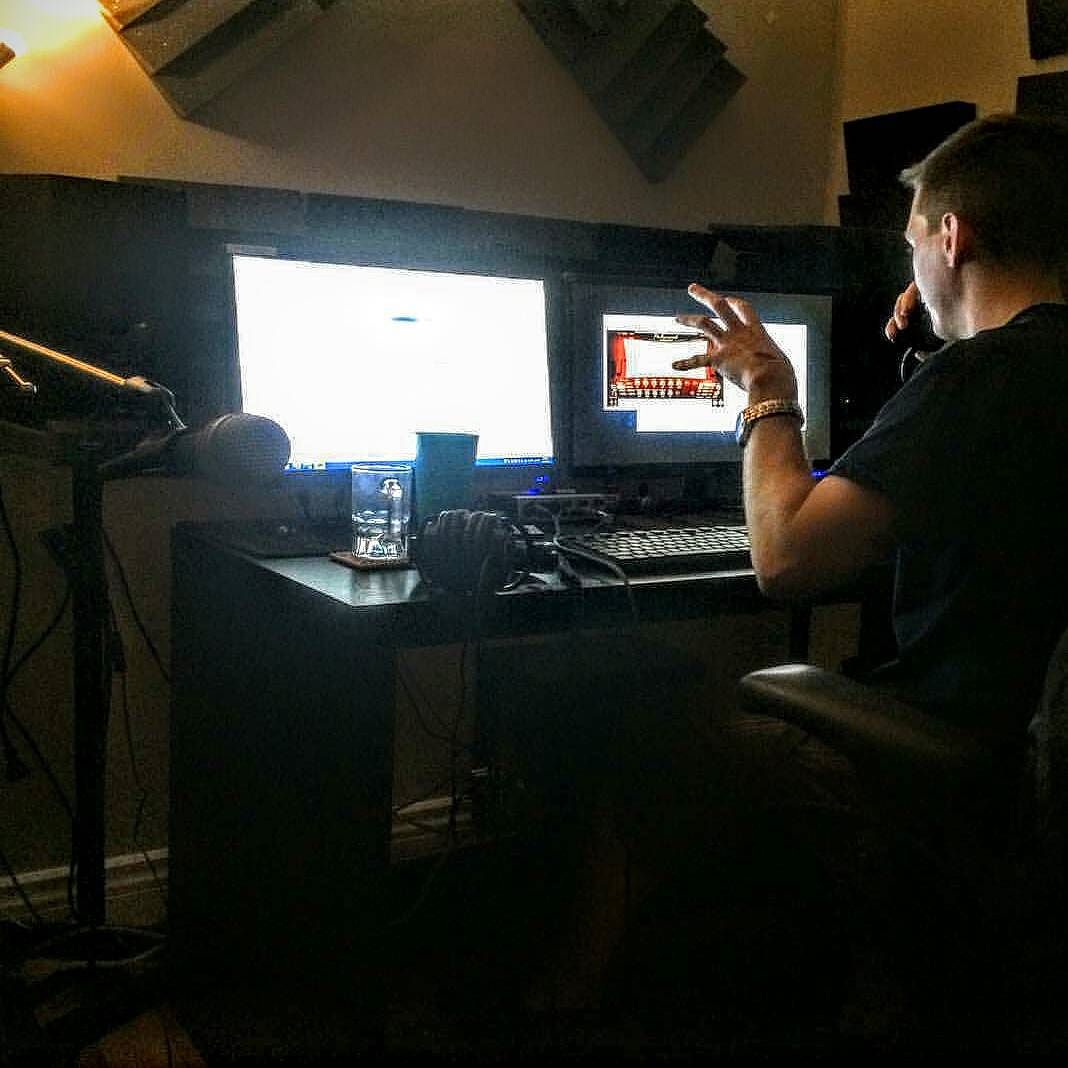 Blog Q&A Interview with Kustom
May 10, 2016
1) Tell us a little bit about yourself.
First off, you can find my hottest new beats at —>>>   http://www.kustombeats.com/beats/
I am a music producer based out of Los Angeles, CA. I have been making music all of my life. I think it transcended into business when I was offered money for the ideas I was creating. Technology has also helped immensely in defining the sound that I am making. I'd say that I'm a fairly humble guy that enjoys hanging out with friends and making music on the west coast.
2) What inspired you to get into music production?
Music production didn't "happen" until I started getting into studio / recording with a band. I was the drummer in a band that some friends and I put together – we were pretty good, but separated when we all went to college. When recording, I learned a lot about how to program drums, tune instruments, and balance the mixes on a computer. For example, if didn't like the snare from my own drum set on a particular song, I could simply replace it with a sample. When all my band-mates split up, I kept it going and figured out how to work with all the instruments and sounds needed to make full songs. It was at that point when, I believe, I turned into a music producer.
3) What are some noteworthy records that you've been involved with?
Going to type a short-list discography here:
Tyrese Gibson – Ready 2 Ride (Fast n Furious 6)
"Thirsty" ft Flo-Rida, Kaptn, and Ultimate
"Nirvana" ft Pitbull and Allison Kaplan
Skip Marley – Three Little Birds (Sandals $50M campaign)
Skip Marley – Cry To Me (released, itunes)
Cedella Marley – Could U Be Love (Bob Marley's 1st born)
Rebecca Black – Say What You Wanna Say
Uncle Murda ft Mike Epps – No Cake
Uncle Murda – Who Want Beef ft Chinx Drugz
Nicki Minaj – Finesse ft Brinx Billions and Gucci Mane
TRUB – Armaggedon (mixtape) ft Gorilla Zoe, Project Pat, Juicy J and Jacki-O
Jnez – "What I'm On" ft Young Dro
Jnez ft Shanell – Uh Huh
T.T. – Midwest Meltdown ft Twista & Tech N9ne
Ah Moon – Automatic (album production)
Мот – День и Ночь (премьера клипа, 2015)
4) Who are some of your favorite music producers and why?
Major Lazer and Dr. Luke. Year after year, these guys set the bar in music for the rest of world.
5) What is your DAW of choice and why?
Sony Acid Pro 7. I'm probably the only one left who would choose this DAW, but it's the one I learned on. I've been producing music for 10 years with that program and every day I get a little better. I consider myself an expert at that program now which is why I use it over other DAWs, but each of them are great in their own way.
6) Any favorite VSTs?
Absolutely. I feel pretty confident in saying that you can find one of the following VSTs open in every one of my sessions:
1) IKMultimedia T-Rackz Custom Shop
2) ReFX – Nexus 2
3) Sylenth
4) Omnisphere 2
5) IKMultimedia Philharmonic 1
6) Izotope ozone 7
7) Soundtoys
7) Who are you listening to these days?
Currently studying some new stuff from James Blunt.
8) Who are you working with at the moment? Any upcoming projects?
A couple of interesting projects in the pipeline. I'll list them off here:
– DJ Shift's new song "Painkiller" featuring Julia Price and Kevin Writer set to release on radio with music video this summer. We were supposed to release it last year, but got caught up in the music video – which was a large effort as well.
– Mott (Russian) coming out with two more songs on his electronic EP under his Black Star record label. We released one song as an experiment last year – the video to that song now has over 21M views so we're doing a few more. I just added it to list on question three if you want to check it out.
– Just got a call to produce a few things for Bonnie Anderson in Australia. She's been holding the top seat in Australia's pop music scene for a while, so I'm stoked.
– I'm currently producing Cameron Mcbeth's EP, who recently signed to Agency Records. We're planning on releasing some singles together this year to celebrate his signing and generate some buzz. Artist development mode.
9) Any advice for producers trying to build a name for themselves and any tips on selling beats online?
The music business is a great place to be, but you have to be committed to it. My relationship with the music industry is "at will" – so I can quit anytime, but I chose to keep producing and contributing because I'm committed. You also have to be humble since creativity requires patience. As a producer, you are responsible for the entire record, not just the beat.
Selling beats online is still a viable business. Biggest tip is sell a quality product. The beats simply have to sell themselves or they won't sell. It doesn't have to be a complicated beat, just quality. Remember: complicated is interesting; simple is effective. If you have a quality product, ample supply, and a responsive store for your beats, then you eventually will get sales. Next is to establish your brand reputation and marketing via social network profiles.
===
If you want to hear the hottest new beats by Kustom, go to http://www.kustombeats.com/vip
login:  kustombeats
pass:  kustomb
Kustombeats.com/vip is the #1 site to buy beats and browse hottest new beats online. I have been in business for over 10 years and have one of the most comprehensive selections of hot new beats and electronic dance music EDM instrumentals available to artist and performers around the world.  If you are looking to buy beats online or simply browsing the Internet for beats for sale from a top music library, Kustombeats.com is the place to buy. You can buy beats or buy rap beats online all from one place. Once you purchase a non-exclusive beat you are instantly able to print and download a written licensing agreement for your beat which will license you to use the beat for your demo, mix tape, album etc. Be sure to see terms and conditions if you are interested in more details or sent an e-mail to customer service if you have any questions beyond the list terms. We also provide opportunities for up and coming music producers around the world to sell their beats online. Buy beats for sale today.
Official Kustom beats music website hosting newest hot beats and pop track Instrumentals to Buy tracks online. Kustombeats is a dance EDM Beat Maker Kustom beats website for dance beats, trap beats, rap instrumentals, DJ instrumentals, R&B beats music for website background music, dance beat music for video production, etc. Kustombeats EDM Beats and other Beat Makers Music Production to Buy Beats online at kustombeats.com/vip